Plant-based protein is becoming a buzzword in the health community. If you're wondering why that is, you've come to the right place.
Some of the reasons plant-based sources of protein are quickly becoming more popular are because of the health benefits, less risk of allergies, and frankly because it's a cleaner, more natural choice.
Generally speaking, plant-based protein contains more vitamins and minerals and is easier to digest for most people, causing less bloating. But the type of plant-based protein is important, not all sources are created equal!

Why Does Protein Matter?
Protein, or amino acids, are required for pretty much every function your body has to perform. From hormone production to making new cells, protein is essential!
If weight loss and getting "toned" is your goal, then a diet sufficient in protein is even more important. A sufficient protein intake supports weight loss and ensures that you burn more fat instead of muscle.
Protein also helps keep you feeling full and satisfied after meals and it can help you burn more calories since it requires more energy to break down compared to fats and carbohydrates.
Experts recommend getting around 20-30g of protein per meal, or around half your body weight (in pounds).
What is a complete protein?
A complete protein simply means it contains all of the nine essential amino acids. These are the amino acids that our body cannot produce on our own, so we have to get them from our food.
Some plant-based sources of protein will be complete, while others will be incomplete. That's why it's important to eat a variety of different sources to make sure you're getting the amino acids your body needs!
Top 7 Plant-Based Protein Sources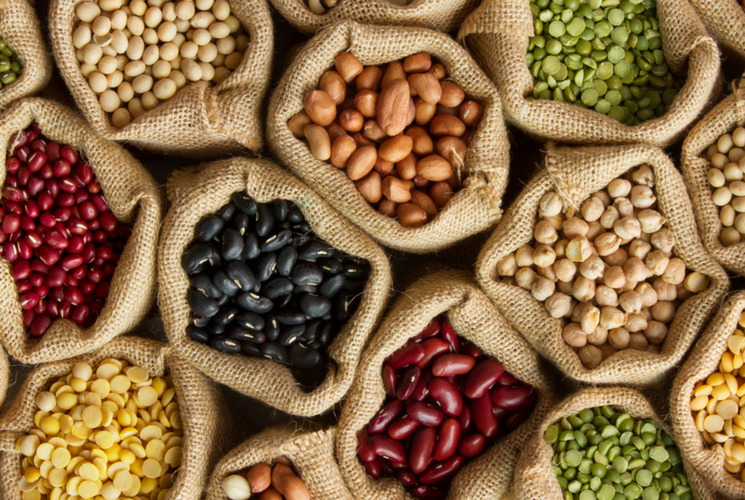 1.Hemp Seeds (or Hemp Hearts)
No need to worry, hemp seeds will not get you high. However, they will provide you with a decent amount of complete protein, about 9g per serving!
They are also a great source of omega 3 and omega 6, vitamin E, magnesium, and potassium. Throw them in your smoothies or toss in your salads!
2.  Pumpkin Seeds
Next time you carve a pumpkin, save the seeds because just ¼ cup carries 10g of rich plant protein!
Pumpkin seeds are tasty toasted or even tossed into a smoothie or salad. They provide zinc and magnesium too, nutrients that many of us could be deficient in.  And don't worry, pumpkin seeds are a complete protein.
3. Quinoa
Although quinoa is often categorized as a grain, it's actually a seed. It's high in plant protein too, serving up 8g per cup! It's a complete protein by itself, giving you all the amino acids you need. Quinoa tastes great cooked and is used like you would rice, or even in your baking!
4. Amaranth
Yet another complete protein source, this ancient grain was originally cultivated by the Aztecs. It provides 9g of protein per serving as well as a wide variety of bone-building vitamins. It's easier to digest than most grains too!
5. Peas
Yep, those little green things you used to try and hide under your dinner plate as a good are actually a great source of plant protein!
It's not quite a complete protein source, but it still has lots of studied benefits including supporting weight loss and helping with healthy blood sugar levels.
6. Black Beans
Black beans are full of fiber, potassium, folate, vitamin B6, and 15g of plant protein per serving! They are just shy one amino acid to be considered complete but pair it with brown rice and you've got yourself a healthy, protein-packed meal with all the essential amino acids.
7. Chia Seed
Remember those chia pet commercials? (Cha cha cha chia!) Yep, those little seeds are great sources of protein!
Coming in at just over 4g per ounce, chia seeds aren't complete but still have lots of great benefits like omega 3s, fiber, and bone building boron, manganese, calcium, and phosphorus.
Try a Complete Plant-Based Protein Powder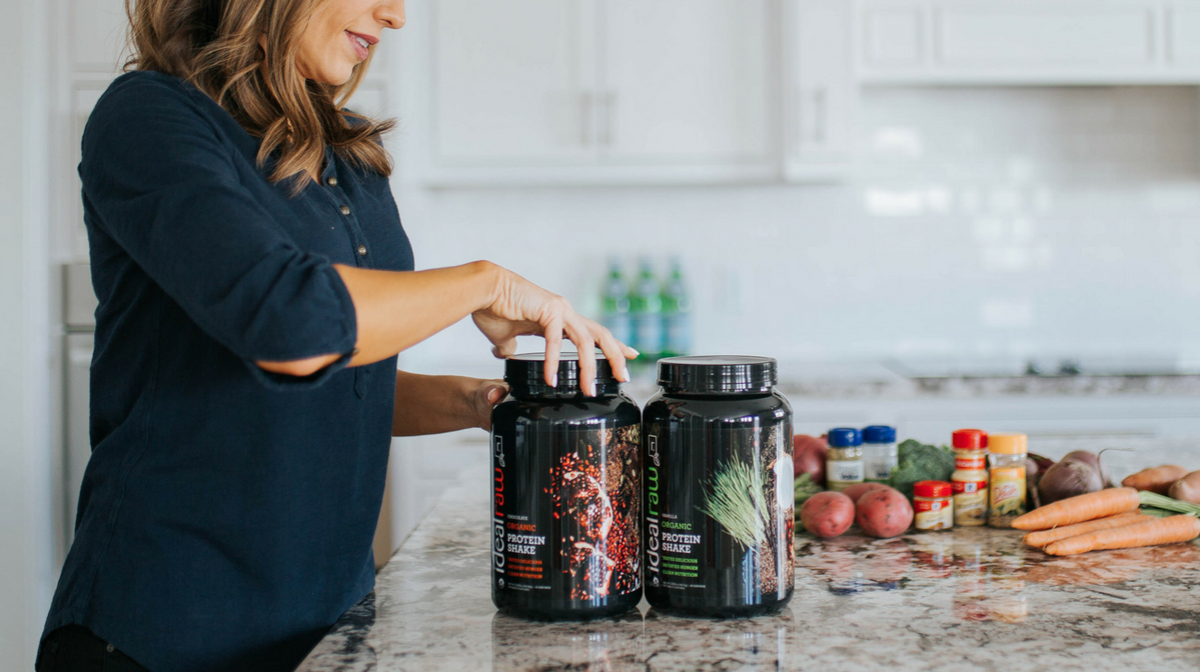 If you're in a bind and need a healthy breakfast, snack, or post-workout snack try IdealRaw Organic Protein!
It's got a blend of seven different plant-based protein sources including many of the ones we just mentioned!
Each brings its own unique and powerful qualities to the table and it's certified organic!
Organic Rice Protein
Rice protein is hypoallergenic and easily digestible. Rice protein also features antioxidants, B-Vitamins, and fiber. According to research, it's comparable to whey protein when it comes to fat loss and muscle growth over an 8 week period.
What this means for you: If your goal is to build muscle and lose fat, IdealRaw can boost your efforts by providing you muscle building organic rice protein.
Organic Pea Protein
Pea protein is easy to digest and is high in BCAAs (branched chain amino acids) which are essential for muscle recovery and repair. Pea protein also helps you feel less hungry in between meals.
What this means for you: Feel like your hunger is ruining your efforts to lose weight or manage your cravings? Pea protein can help you stay full and satisfied for longer, reducing pesky cravings.
Organic Coconut Protein
This tropical protein features 17 of the 20 amino acids and also provides support to your nervous system, connective tissues, and even supports youthful looking skin.
What this means for you: If you want beautiful skin, coconut products, like the organic coconut protein in IdealRaw can keep your skin soft, clear, and radiant.
Organic Chia Protein
Chia is packed full of protein and healthy omega acids, as well as impressive amounts of many essential vitamins and minerals. It's an ancient superfood for a reason!
What this means for you: Do you care about your heart health? I'm sure you do, which is why chia protein (full of omega acids) will protect you against heart disease.
Organic Sunflower Protein
Sunflower protein is a complete protein, featuring all 20 amino acids your body needs. Sunflower protein also packs in a sizeable helping of BCAAs for muscle recovery and repair.
What this means for you: Sore after working out all the time? BCAAs from our organic sunflower protein can help you recover faster and perform better.
Organic Golden Flax Protein
Providing more than just protein, golden flax also contains heart-healthy omega-3 fatty acids, along with antioxidants and fiber.
What this means for you: Antioxidants and fiber boost overall wellness and support a healthy heart.
Organic Pumpkin Protein
Pumpkin protein is a great source of omega acids and is high in vitamin K, making it one of the most nutritious plant proteins available.
What this means for you: Vitamin K supports optimal bone health.
With IdealRaw Organic Protein you can…
Consume more plants, boosting your nutrition through plant-based foods.
Get the protein your body needs (with all of the essential amino acids) easier and from clean organic sources.
Eat healthy on the go and when you don't have time to purchase whole foods.
Protect the environment by consuming more plants and less carbon emitting meat and dairy.
What To Do Next
Now that you know some of the best sources of plant protein it's time to start incorporating them into your diet!
Again, It's best to get a variety of these different protein sources to get all the benefits of each.
Check out some of these recipes to get started:
Chia Flax Crackers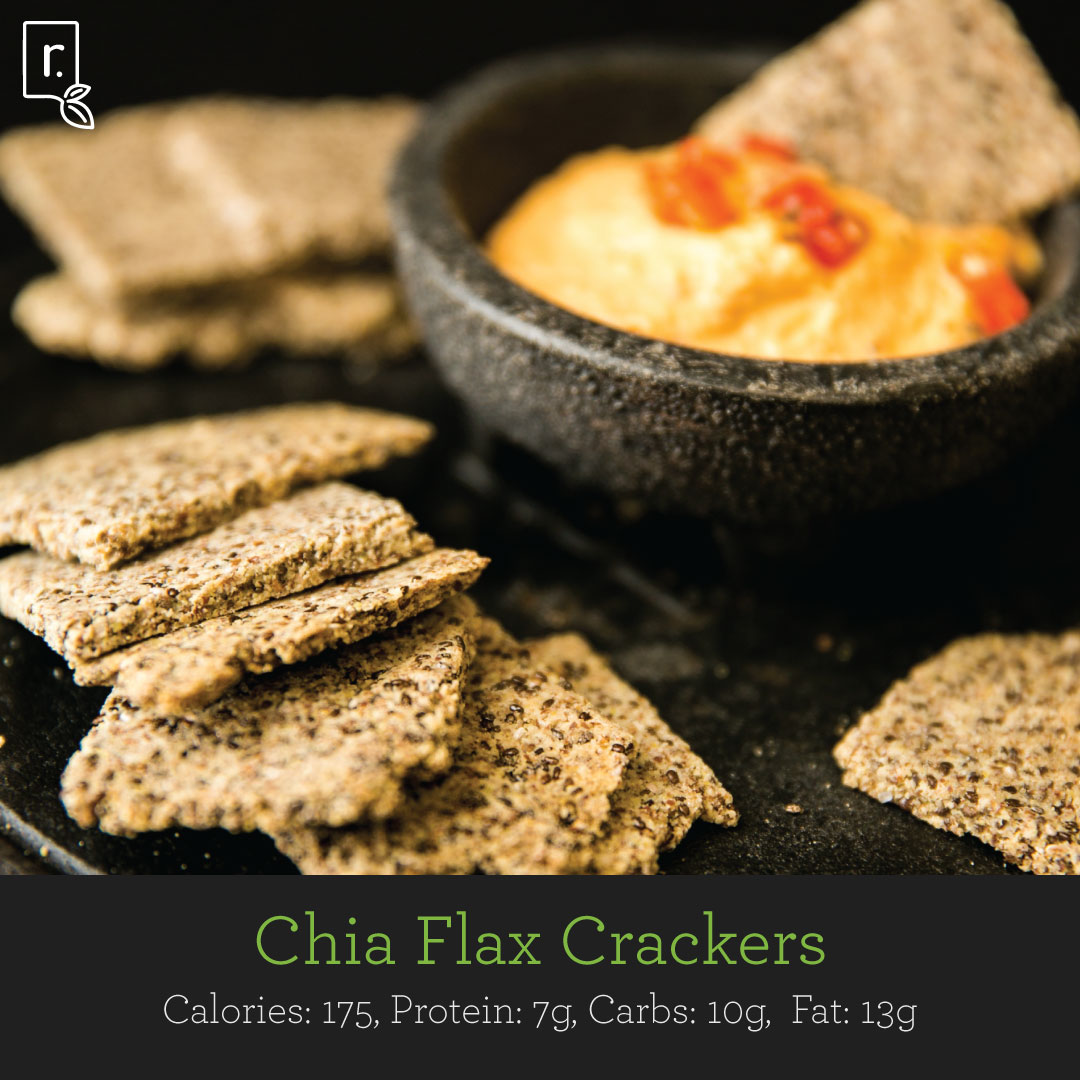 Ingredients:
½ c almond flour
¼ c ground flaxseed
3 tbsp. water
½ tsp. ground sea salt
Directions:
Preheat oven to 350 degrees. Mix almond flour, ground flax, IdealRaw Chia Seeds, and ground sea salt until combined. Add water and mix until mixture turns into dough.
Place dough on parchment paper and roll out until very thin, about

⅛

inch thick. Using a pizza cutter or knife, cut dough into small squares (should be about 20 squares).
Bake crackers for 20-25 minutes or until golden and crispy. Let cool and enjoy! Store leftovers in an airtight container.
Serves 4. Serving size: 5 crackers. Calories per serving: 175 / Protein 7g / Carbs 10g / Fat 13g
Pumpkin Seed Energy Bites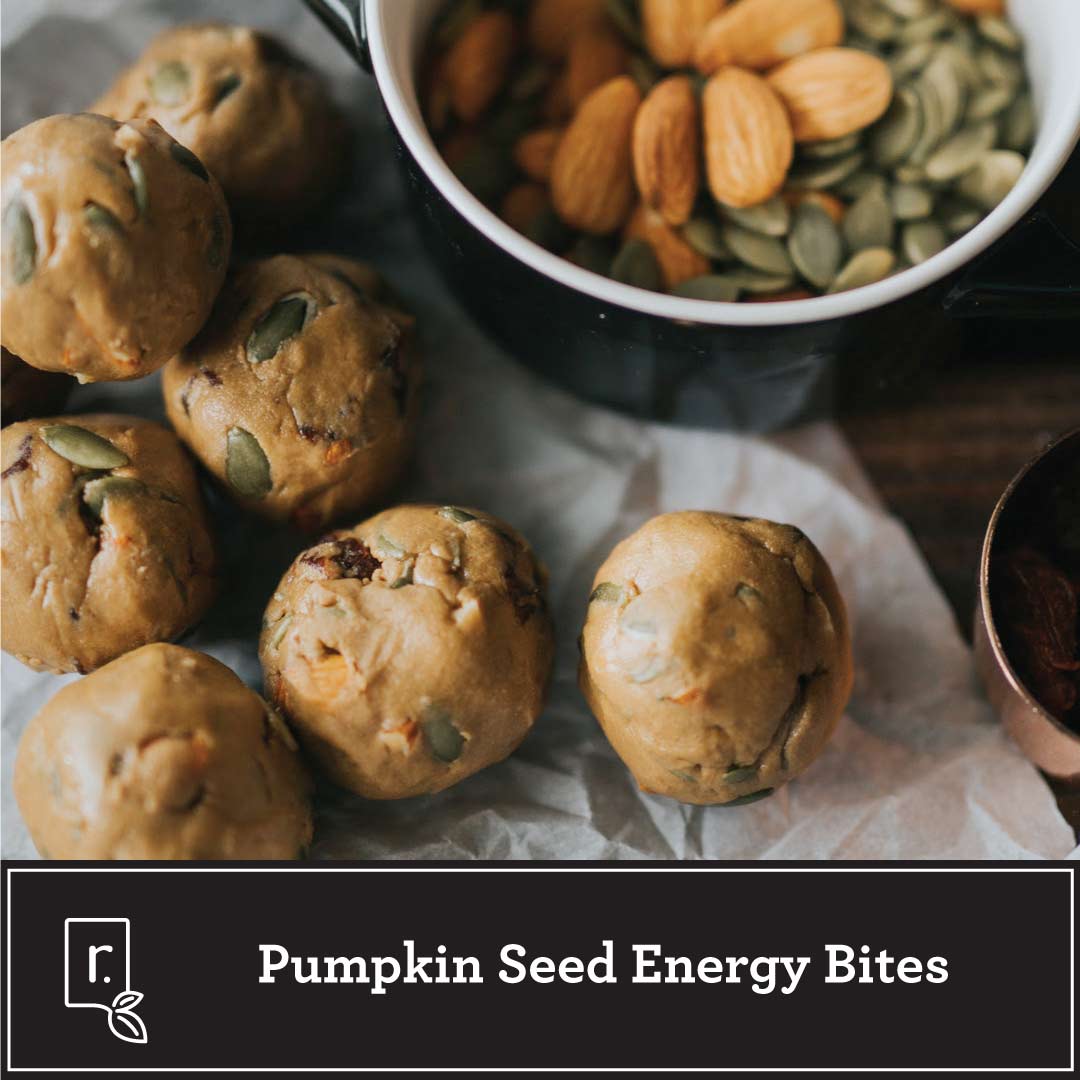 Ingredients
1/2 c – organic sunflower seed butter
1 scoop – Vanilla IdealRaw Protein
1/4 c – raw almonds, chopped
1 tbsp – pure maple syrup
1/4 c – baby pumpkin seeds
1/4 c – dried cherries
Instructions
Mix sunflower seed butter, Vanilla IdealRaw Protein, almonds, and maple syrup.
Fold in pumpkin seeds and cherries. Roll into 9 equal bites. Store in the refrigerator. Enjoy!
Serves 9. Serving size: 1 bite. Calories per serving: 146 / Protein 6g / Carbs 10g / Fat 10g
Mango Quinoa Bars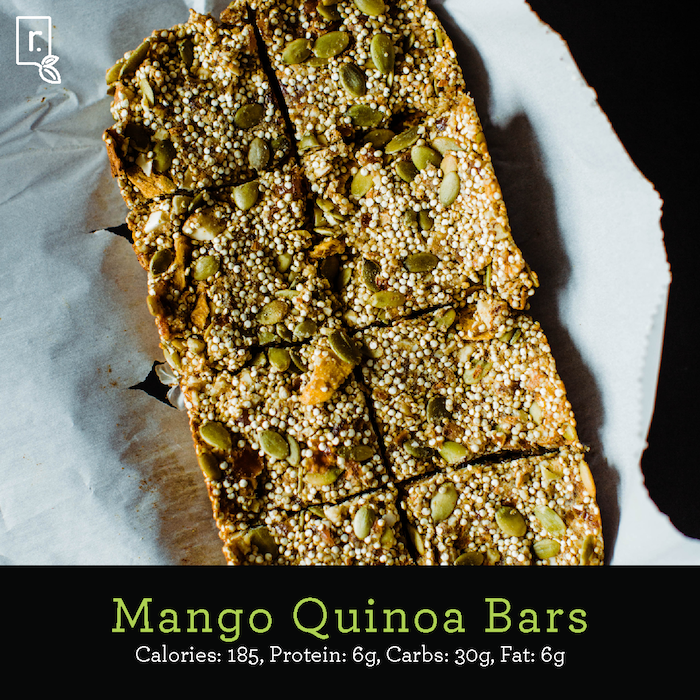 Ingredients
1/2 c- uncooked quinoa
2 scoops – IdealRaw Superfood Blend
1 1/4 c – pitted dates
1/2 c- raw almonds, chopped
1/4 c – pumpkin seeds
1/4 c – chopped dried mango
Instructions
Preheat oven to 350 degrees. In a high powered blender or food processor, blend dates until smooth.
Mix blended dates with all other ingredients. Press down into the bottom of parchment-lined loaf pan and bake for 20 minutes. Let cool and cut into 8 squares. Enjoy!
Serves 8. Serving size: 1 bar. Calories per serving: 185 / Protein 6g / Carbs 30g / Fat 6g