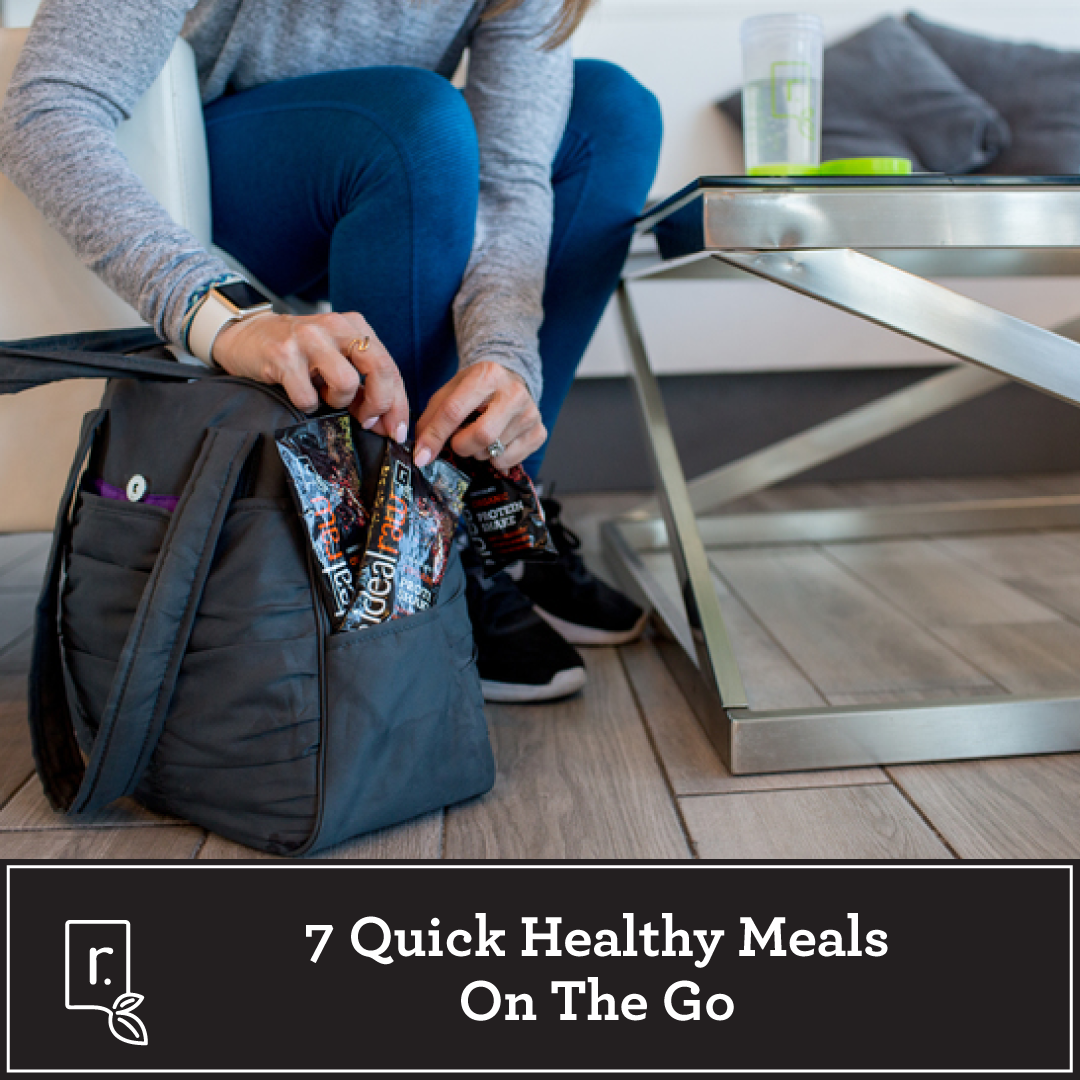 Ever wish life would slow down just for a minute?
I know I do!
As a busy mom of four, I feel like I'm running around like a crazy lady 99% of the time.
Having a routine helps, but It can still be hard to get in healthy meals during the day.
After working with a trainer, losing 30 pounds, and then getting certified as a personal trainer and nutritionist myself, I learned how important it is to eat the right foods and to eat regularly during the day.
Eating every three to four hours keeps our blood sugar stable and keeps hunger and cravings under control.
It might be tempting to think skipping meals is a smart weight loss move, but you'll pay for it later by eating everything in sight the next time you do eat.
Next time you have a busy day ahead of you (which is probably today!) make sure to bring one of these seven quick healthy meals with you!
Each is made with wholesome ingredients and contains fiber, protein, and healthy fats. You're going to love them!
7 Quick Healthy Meals You Can Take Anywhere
1. Oats In a Jar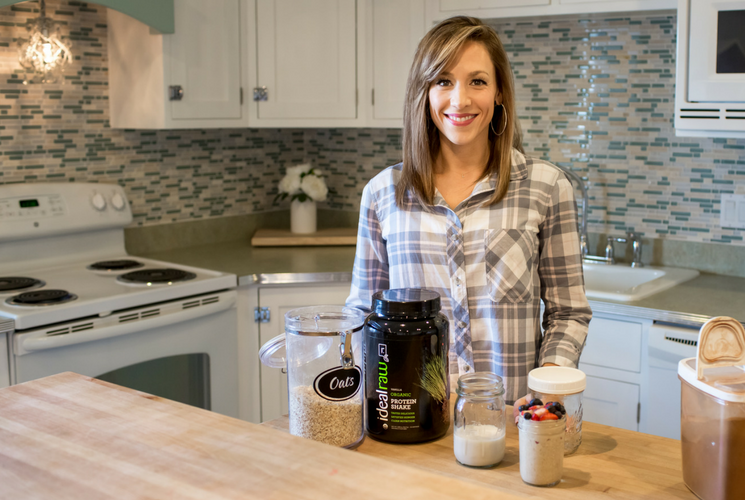 This is one of my favorite quick breakfasts in the morning, or even as a snack later in the day.
You can make it super quick the night before and have it ready to go in the morning.
Here is my basic recipe, and you can add fresh fruit, nut butter, or anything else your heart desires.
Ingredients:
Instructions:
Put all the ingredients in a small mason jar, and shake it up!
Refrigerate it overnight or at least 4 hours.
Top with berries, dark chocolate, coconut, or nut butter.
2. Veggies In a Jar
You know me. I LOVE my veggies. But not always plain. Sometimes I like to eat them with a dip of some sort.
My favorite healthy combinations are carrots and cucumber with hummus or celery with peanut butter.
You can carry these with you on the go in a mason jar or a small container. I like to pack a jar around and snack on it while I'm waiting to pick up the kids from school or sports practice.
3. Fresh Fruit & Nuts
This one is super easy to grab and pack no matter where you are! I like to have a fruit bowl filled with fresh apples, pears, peaches, whatever is in season to grab and go with.
I also like to pair them with a handful of nuts I sort into small plastic baggies ahead of time during my weekly food prep.
This gives me some healthy carbs, fiber, fat, and protein to fuel me during a busy day.
4. Protein Shake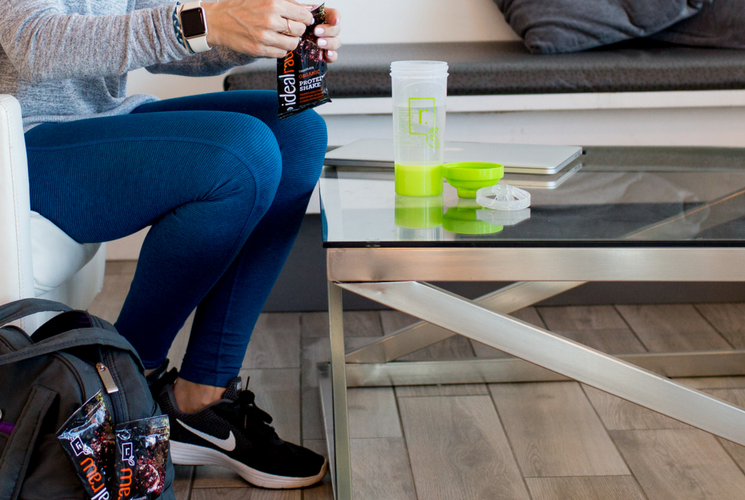 Protein is SO important, but most of us don't get enough. Especially vegetarians like myself.
I've been a vegetarian my whole life but was overweight during my college and early motherhood years.
This was because I didn't understand the importance of balancing my macros. I just ate all the carbs and fat in the world with hardly any protein!
Once I started balancing my macros with more protein, my college and pregnancy weight finally came off. Protein is powerful!
Related: 3 Different Ways to Use Protein Powder
Try IdealRaw Protein Samples!
Get 4 samples of IdealRaw protein, a shaker bottle, and our superfoods recipe eBook for just $9.99!
5. Energy Bites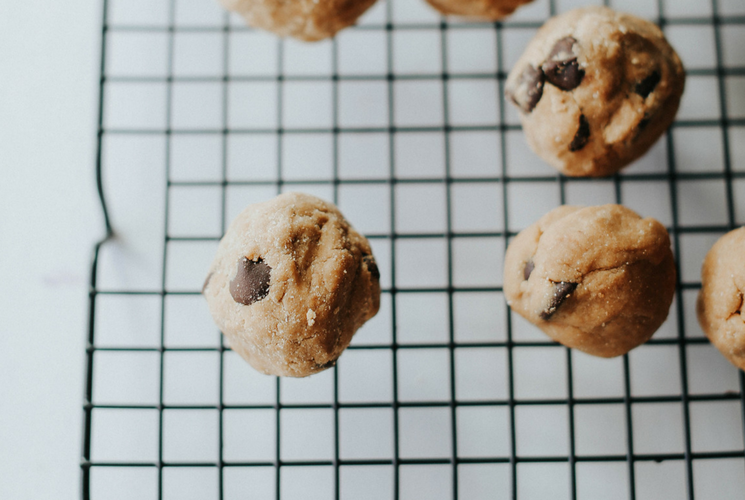 Energy bites are super popular these days and for good reason! They provide a healthy snack that's easy to take with you and tastes amazing.
It's basically like snacking on cookie dough and who doesn't love that?
My favorite energy bite recipe are these chocolate chip cookie dough bites made with IdealRaw Vanilla Protein.
You can make them super quick and have them for a perfect protein filled snack when you're in a rush.
6. Salad In a Jar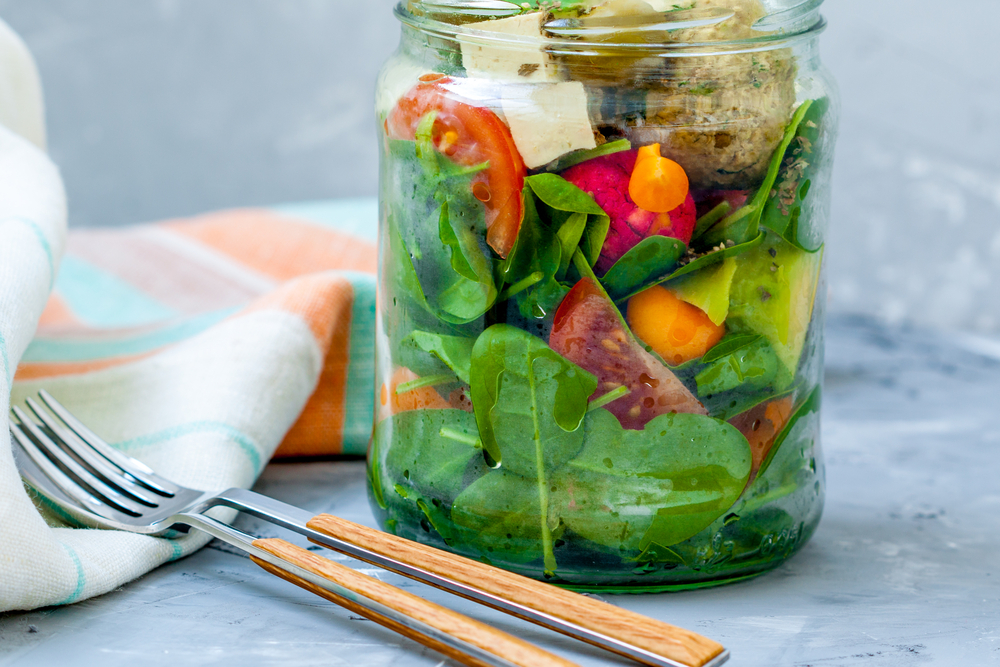 This is such a yummy and convenient way to get your veggies in! It's super simple too.
Just pick your favorite greens and throw a couple handfuls in a small mason jar. Next throw in some of your favorite salad additions.
You could make it fruity with blueberries and walnuts or savory with a hard boiled egg and cherry tomatoes. The choice is yours!
Finally, pick the dressing you like (not too much!) put a couple tablespoons in the mason jar and shake it up.
7. Fruit or Veggie "Chips"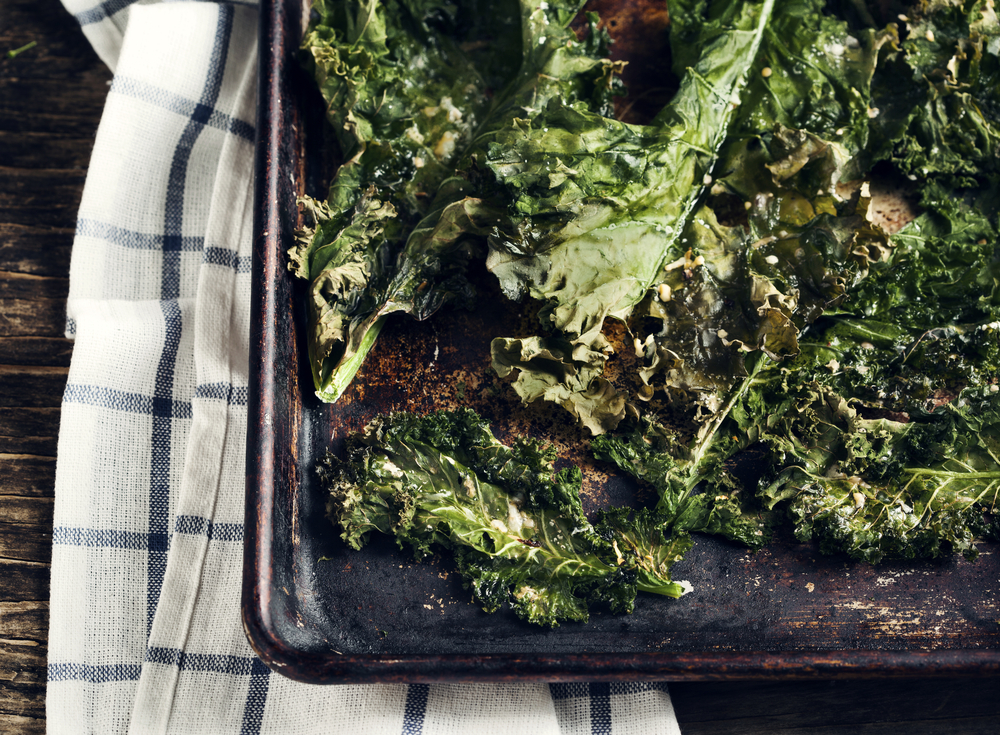 Craving something salty and crunchy?
Try baking fruit or veggie chips and taking them with you on your errands.
Kale chips are yummy baked with a little olive oil, salt or parmesan.
Apple slices can be tossed with cinnamon and baked into yummy chips too!
It's an easy way to up your veggie intake or satisfy some cravings. Regular chips are OK now and then, but you're way better off snacking on crunchy veggies and fruit!
Don't Let Busy Get The Best Of You
Being busy isn't an excuse anymore because it's the norm!
All of us have things to do, tasks to complete, and friends and family to take care of.
But don't forget that it's also important to take care of YOU. If your sick, tired, and unhealthy, then you're not going to be able to take care of those around you too.
Healthy eating may seem time consuming and unrealistic, but I promise you it's not! These quick healthy meals are proof.
They are not only healthier than the drive through at your local fast food joint, they are more cost effective too.
They will keep you well fed, feeling energized, and help you tackle any busy day.