There's just something magical about Cherries and Summer. 🍒 This creamy, vegan Cherry Vanilla Nice Cream is the perfect celebration of this magical duo!
4 peeled, frozen, chopped bananas
1/8 teaspoon whole vanilla bean or 1 tsp vanilla
Just enough vanilla almond milk or water to blend.
Optional: 1/3 cup pitted cherries to top
Optional: Vegan whipped topping
Blend all ingredients together in a food processor or high powered blender until combined. It should be a nice soft serve consistency. Top with vegan whipped topping and the left over cherries.
Enjoy!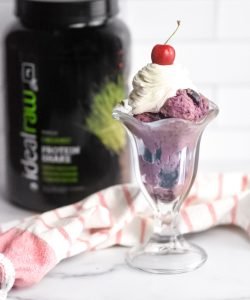 ---
---
---