Are you nutty for macadamia nuts?
Macadamia nuts are one of the healthiest nuts on the planet. Rich in magnesium, copper, and healthy fats, the macadamia is quite the little powerhouse.
The benefits of this nut come in a variety. Macadamia nuts are heart friendly and support a healthy gut. They are packed full of antioxidants, omega-3s, fiber, and everything your body needs to run optimally. You could say it's the perfect nut.
These coconut mini cheesecakes give you all the benefits of the macadamia and more! They make a great dessert or snack. Enjoy!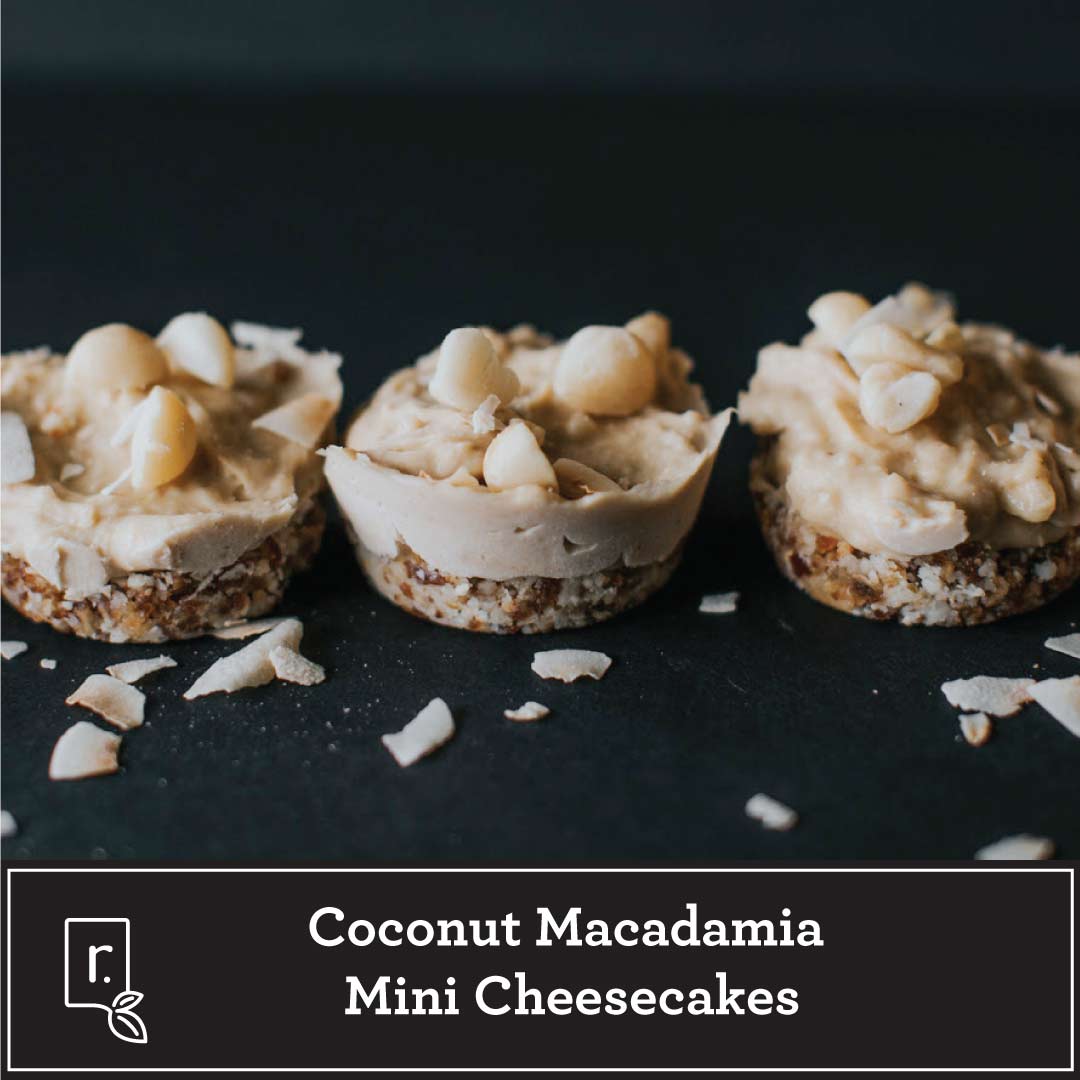 Servings

6
Prep Time

9 hours
Passive Time

9 hours
Ingredients
.5 c pitted medjool dates
.5 c raw macadamia nuts
2 tbsp organic unsweetened coconut flakes
1 c raw cashews
1 scoop Vanilla IdealRaw Protein
.25 c canned coconut milk
2 tbsp agave nectar
1 tbsp coconut butter
Method
Soak raw cashews in hot water a minimum of 1 hour. Drain and set aside.

In a blender or food processor, blend dates, macadamia nuts, and coconut flakes into small bits and mixture becomes sticky. Press down into the bottom of 6 muffin tins and set aside.

Blend soaked cashews, Vanilla IdealRaw Protein, coconut milk and agave nectar until smooth and creamy. Pour on top of prepared crusts.

Freeze for about 8 hours, or until solid. Eat frozen or let thaw before eating & enjoy! Store in freezer.
Nutritional Facts
Amount per serving
| | |
| --- | --- |
| Calories | 330 |
| Total Fat | 24g |
| Total Carbohydrates | 26g |
| Dietary Fiber | 4g |
| Sugar | 16g |
| Protein | 8g |