Who said that vegan birthday cake wasn't delicious? Well definetely not me ! We've prepped for you a super yummy recipe that you could make this weekend!
Ingredients for 15 cupcakes
2 medium bananas, mashed
⅓ cup unsweetened applesauce
⅓ cup coconut sugar
1 tsp vanilla extract
1 tbsp flaxseed mixed with 3 tbsp water
¾ cup white whole wheat flour
1 tsp baking powder
¼ tsp salt
¼ cup cacao powder
1 scoop Chocolate IdealRaw Protein
¾ cup unsweetened almond milk
Coconut frosting:
1 (13.66 oz) can coconut milk, refrigerated overnight
1 scoop Chocolate IdealRaw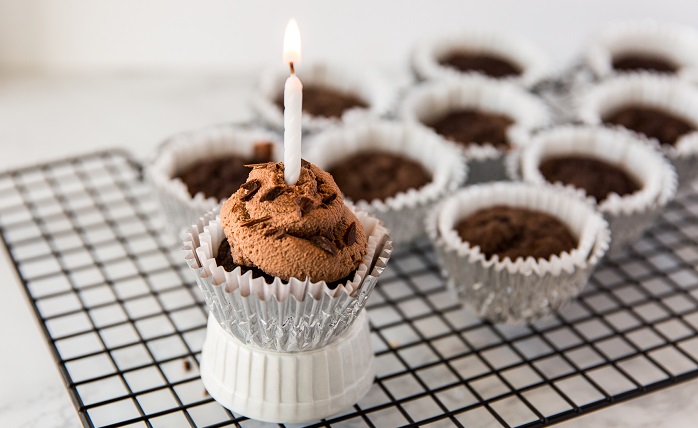 Instructions
Preheat oven to 350 degrees F.
Mix mashed banana, applesauce, coconut sugar, and flaxseed mixture until combined.
In a separate bowl, mix flour, baking soda, salt, cacao powder, and chocolate idealraw.
Add to banana mixture and stir until smooth.
Spray cake pan with nonstick spray and add batter.
Bake for 25-30 minutes, or until a toothpick comes out clean. Let cool.
Once cake has cooled, remove only the solidified part of the coconut milk from can and whip with Chocolate IdealRaw.
Spread onto cake and cut into pieces.
Enjoy!