Oil-Free Fishless Tacos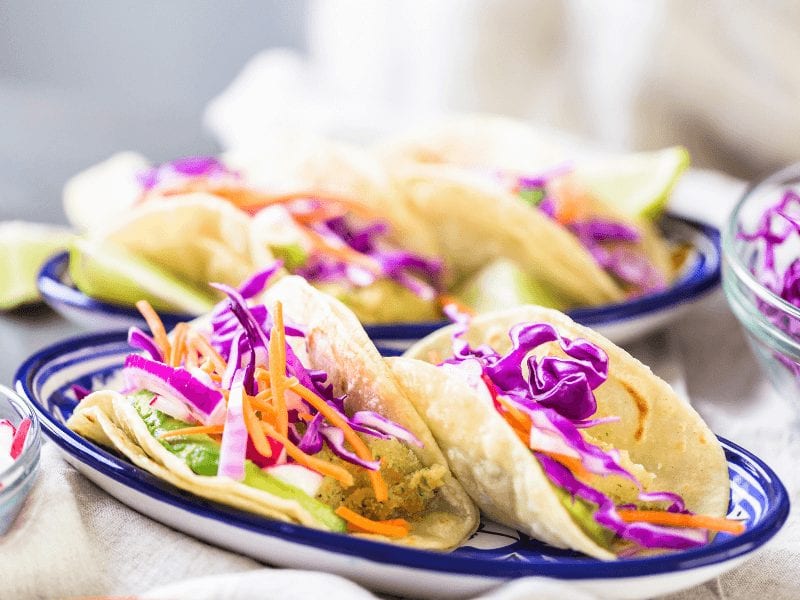 Ingredients:
1 14 oz package of extra-firm tofu
1 c all-purpose flour
Juice from 1 can of garbanzo beans (aquafaba)
1 c Panko breadcrumbs
Corn Tortillas
Shredded purple cabbage
Cilantro
Avocado, sliced
Favorite hot sauce (optional, I use Cholula)
Directions:
Open and drain liquid in tofu package. Press tofu by putting tofu on a plate then placing another plate on top of tofu and weighing it down with something heavy like a book or ceramic dish. Let tofu press for 5-10 minutes, then drain runoff liquid off the plate.
While tofu is being pressed, set up three step dipping stage with one bowl for the flour, garbanzo bean liquid (aquafaba), and breadcrumbs.
Once tofu is pressed cut in half lengthwise and cut into half-inch wide, approx 2-3 inch long pieces (the width of the tofu). First, roll tofu fillets in flour, then dip in garbanzo bean liquid (aquafaba) and roll in breadcrumbs. Set on baking tray or in air fryer.
If baking, bake at 450-475 degrees for 25 minutes or until golden brown. Be sure to check halfway for browning and flip. If air frying, air fry on high for 20 minutes.  
While tofu is baking/frying, toast tortillas on saucepan until warm and golden brown on each side. Transfer tofu (1-2 pieces) to tortilla, top with shredded cabbage, cilantro, avocado, and optional hot sauce. Enjoy!