Each chewy, delicious bite of these Pineapple Mango Protein Bars transports you to the islands with tropical flavors of dried pineapple and mango. Packed with protein, it's a real summer treat! 
10 large medjool dates, pitted
2oz dried unsweetened mango, chopped
2 oz dried unsweetened pineapple, chopped
2-4 tbsp water, as needed
Line a 8×8 pan with parchment paper, set aside. Be sure to chop your dried mango and pineapple. If they're too dry, soak in water for 1-2 minutes until just softened. In food processor, process nuts and vanilla protein until nuts have broken down into small pieces.
Add in dates, mango and pineapple and process until combined. The mixture will look dry at this stage, add 1 tablespoon of water at a time until it just comes together. Once the mixture has come together and is sticky, transfer to lined 8×8 pan. Use slightly wet hands to press evenly into pan. Place pan in fridge for 1 hour, or freezer for 30 minutes before cutting into bars.
Enjoy!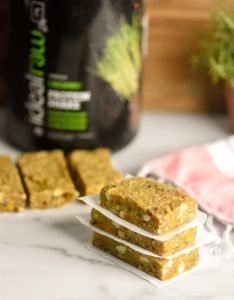 ---
---
---