Are you looking for an healthy dinner to celebrate Fathers Day ? There is nothing better than our Salmon Burger! It's healthy and very nutritious!
Ingredients
2 (4 oz) salmon fillets
½ cup oats, ground
1 large egg
2 tbsp nonfat plain greek yogurt
1 tbsp lemon juice
salt and pepper to taste
¼ cucumber, sliced
2 whole wheat sandwich thins
Sauce
2 tbsp nonfat plain greek yogurt
½ tsp Hidden Valley Creamy Dill Ranch Dips Mix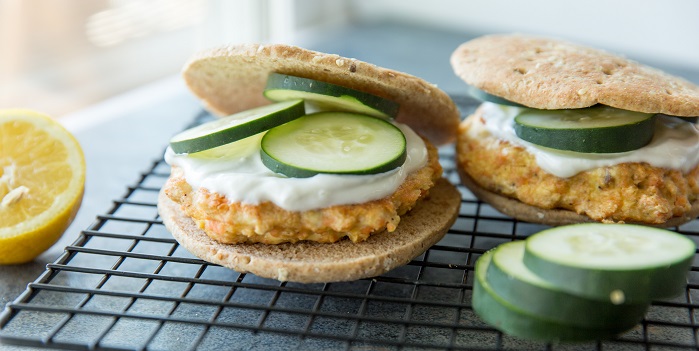 Method
Cut salmon into very small pieces and gently mix with ground oats, egg, yogurt, lemon juice, and salt and pepper.
Refrigerate for 10 minutes. Form into 2 patties and add 2 tsp olive oil to skillet.
Cook patties over medium heat until cooked through.
Mix sauce ingredients until smooth.
Enjoy burgers with sandwich thins, dill sauce, and sliced cucumber. Enjoy!