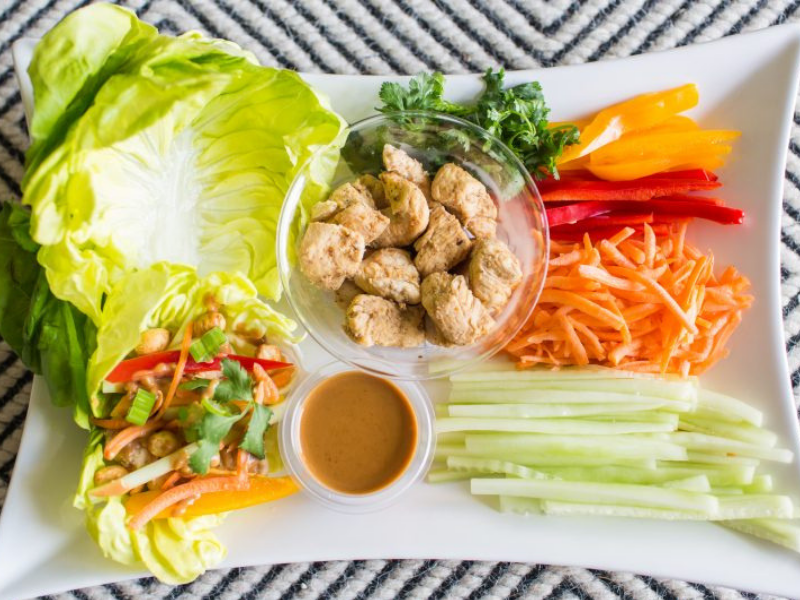 Ingredients
For the Wraps
1/2 package firm tofu or 2 chicken skinless, boneless chicken breasts
Sesame oil
Boston, bib, or butter lettuce, washed and separated
1 large cucumber, peeled and thinly sliced
1 c multicolored bell peppers, thinly sliced
1 c matchstick carrots
1/4 c green onions, thinly sliced
fresh cilantro, chopped
For the Sauce
4 tbsp. rice vinegar
4 tsp. garlic, minced
4 tsp. sesame oil
4 tsp. agave nectar or honey
4 tsp. low-sodium soy sauce
2 tbsp. IdealRaw Peanut Butter Powder
Instructions
Lightly coat a nonstick pan with sesame oil and heat over medium heat. Season tofu or chicken with salt and pepper, then sauté until cooked through. Set aside to cool while you prepare your veggies.
Combine all sauce ingredients and whisk until smooth.
Assemble wraps in lettuce leaves, then top with or dip into sauce. Enjoy!
Makes 3 servings. Each serving is 4 oz chicken and 1/3 of the sauce.