Vegan Broccoli "Cheese" Soup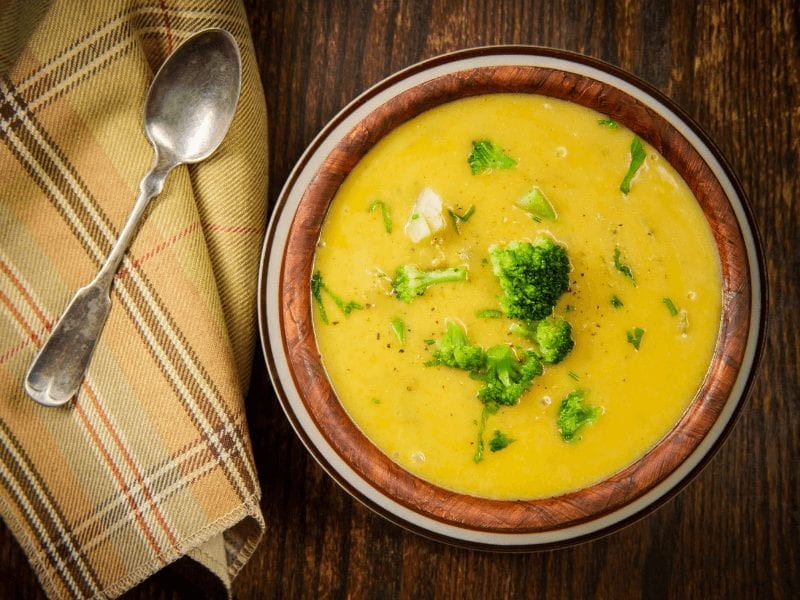 Ingredients:
1/2 c cashews, soaked
1 onion, chopped
2 russet potatoes, chopped
3 carrots, chopped
3 cloves of garlic, minced
Salt, to taste
6 c vegetable or "No Chicken" broth
1/2 c nutritional yeast
1 tsp. paprika
1 tsp. pepper
2 packages of frozen broccoli florets (or 1 head of fresh broccoli, chopped)
1/2 c vegan sour cream (optional)
Directions:
In a small bowl, cover the cashews with just enough water to cover them. Soak for 1 hour.
In a large soup pot over medium heat, sauté the onion until tender and translucent. Add carrots, potatoes, garlic, salt and 2 cups of the broth. Cover and simmer for 30 minutes or until potatoes and carrots are fork tender.
Transfer the soup to a high power blender and blend until smooth and creamy.
Transfer soup back to soup pot and set aside. Drain cashews of the soaking water. In a blender, add remaining 4 cups of broth, soaked cashews, nutritional yeast, paprika, and pepper and blend until smooth. Combine the mixtures in the soup pot over medium heat. Add broccoli florets and sour cream if desired. Simmer until broccoli is tender.