Vegan Lasagna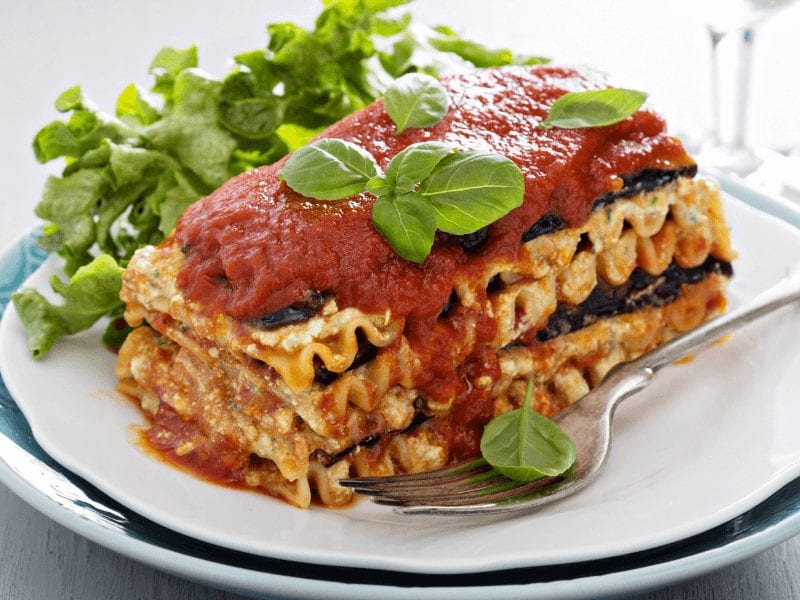 Instructions:
1 14 oz package of firm tofu
3 c spinach
3 c sliced baby Bella mushrooms (optional)
2 tbsp. minced garlic, or garlic powder
3 tbsp. Italian seasoning
3 tbsp. nutritional yeast
Salt and pepper to taste
Pinch of red pepper flakes
2 tbsp. lemon juice
1 jar of favorite tomato pasta sauce
1 package no-boil lasagna noodles
Directions:
Saute garlic, spinach, and mushrooms, if using, until wilted and fragrant. Set Aside. Drain tofu and put in mixing bowl. Using your hands or a masher, combine tofu, garlic, spinach, mushrooms, Italian seasoning, nutritional yeast, and lemon juice to create "ricotta" filling for lasagna.
Add a small layer of sauce to the bottom of a 9×13 baking dish and top with a few sheets of lasagna noodles. Add a layer of tofu ricotta over the noodles with another small layer of sauce. Repeat until all tofu ricotta, sauce, and lasagna noodles are used.
Bake at 350 degrees for 25-30 minutes until lasagna is tender. Let rest 5-10 minutes to cool and allow layers to settle.