Vegan Pumpkin Chili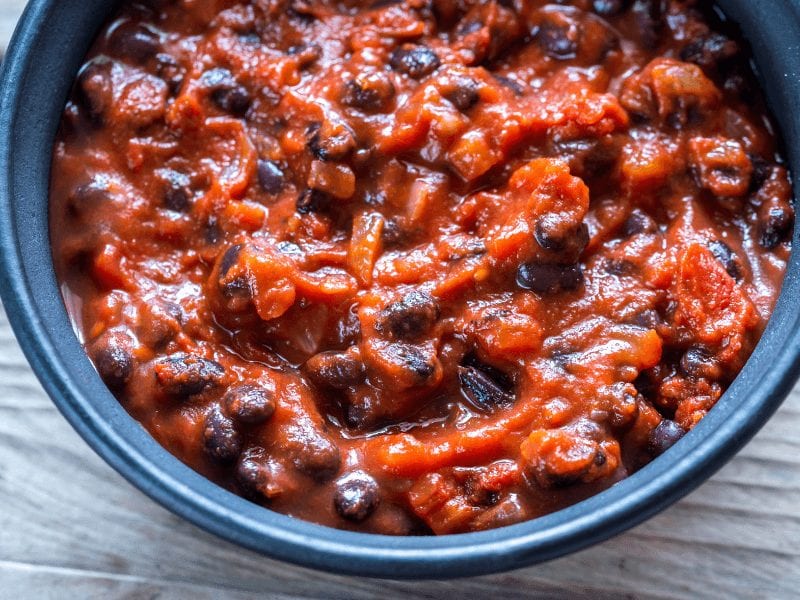 Ingredients:
1 small yellow onion, diced
1 green bell pepper, cored, seeded and diced
2 jalapeños, seeded and finely diced
2 cloves garlic, finely chopped
1 14.5 oz can diced tomatoes
1 15 oz can pumpkin purée
1 15 oz can red kidney beans, rinsed and drained
1 15 oz can black beans, rinsed and drained
1 15 oz can pinto beans, rinsed and drained
1 c water
1 tbsp. chili powder (or to taste if you like spicy)
1 tsp. ground cumin
Salt and pepper to taste
Directions:
In a large pot over medium-high heat, sauté onion, bell pepper, jalapeños, and garlic until tender and translucent, about 5 minutes.
Add tomatoes, pumpkin, water, chili powder, cumin, salt, and pepper, and bring to a boil.
Reduce heat to medium low and add beans.
Cover and simmer, stirring occasionally, for 30 minutes. Check consistency and taste at 30 minutes, if it's too thick for your liking add a little more water and simmer another 30 minutes.
*This recipe also works well in a crockpot on low heat for 6-8 hours or high heat for 2 hours. The longer it cooks, the more the flavors develop.