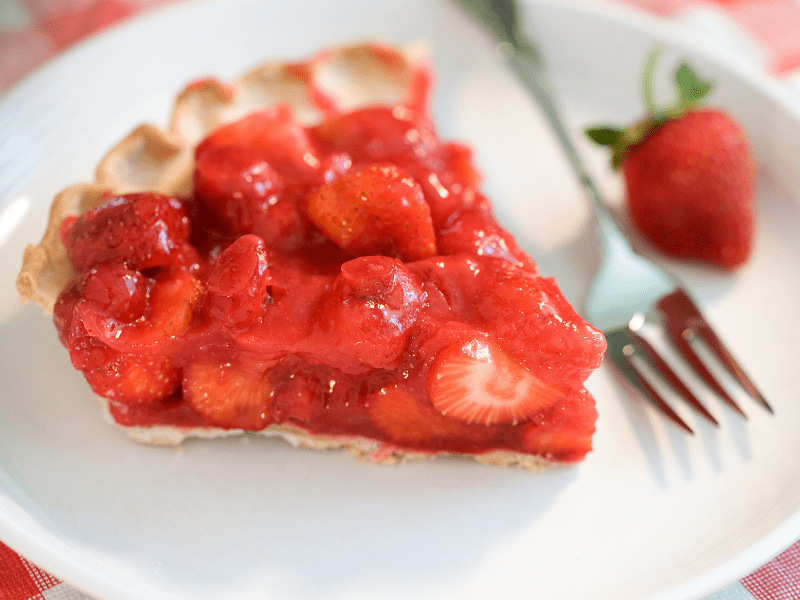 Ingredients
3 c fresh strawberries, sliced
1 3/4 c cold water
6 oz vegan strawberry gelatin (or 2 tbsp. agar agar flakes)
2 tbsp. corn starch
3 tbsp. cane sugar
Vegan whipped topping (such as So Delicious (optional))
For Pie Crust
1 c + 2 tbsp. all-purpose flour
1/4 c IdealRaw Coconut Oil
1/2 tsp. salt
1 tbsp. sugar
3-4 tbsp. ice water
Directions
For Pie Crust
Pre-heat oven to 450 degrees.
Put flour, salt, and sugar in a bowl and whisk to combine. Cut in cold (solid) coconut oil until mixture resembles coarse bread crumbs. Stir in ice water gradually until mixture forms a dough.
Bring to the table and knead briefly to form a ball.
Roll dough with rolling pin to form a circle large enough to cover 9″ pie pan.
Carefully lift the dough and place it over pie pan, tucking sides into the pan. Dock bottom of crust with a fork to prevent bubbles when baking.
Bake for 10-15 minutes or until lightly golden brown. Cool.
For Strawberry Filling
Prepare strawberries by hulling and slicing. Place in cooled pie crust.
Combine water and cornstarch in a saucepan over medium heat and stir until dissolved. Bring to a boil then stir in sugar and vegan gelatin (or agar agar flakes).
Remove from heat and stir until dissolved and thick.
Pour over strawberries in pie crust and refrigerate for 45 minutes or until set.
Serve with whipped topping and enjoy!