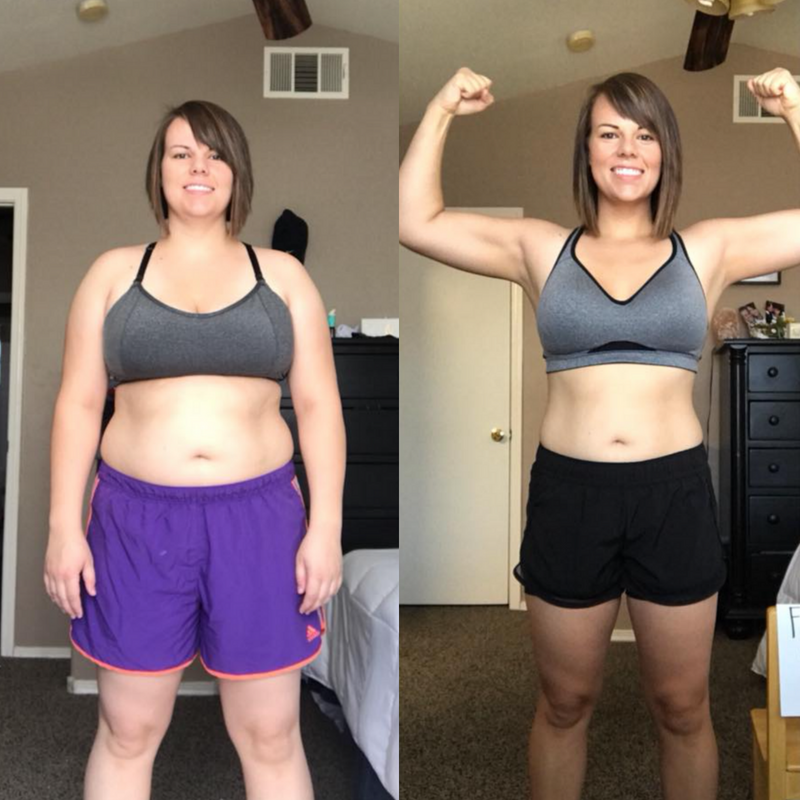 We had the opportunity to catch up with the amazing Megan Mathis! She lost over 30 lbs, and gained SO much more confidence. Check out her incredible transformation as well as her journey below!
Q: When did your journey start?
A: I started the 15 Day Mommy Trainer Challenge on January 29, 2018.
Q: What made you want to make a change?
A: When I had my first child in 2015, I went from working full-time in a physical therapy clinic to staying home, and it was a hard adjustment, to say the least. 16 months after having my son I had our sweet baby girl. For 4 years I had been pregnant nursing or both, and I was ready to do something for myself!
At this time my youngest was 10 months old and I saw that IdealRaw was safe for breastfeeding moms and that got me excited! I had been following Bree for a few months and loved her authenticity and positivity, so when I saw she had a Free 15-day program, I didn't hesitate to sign up!!
Q: What tips do you have for others starting out?
A: Set small goals. If your first goal is "lose 30lbs" it's definitely obtainable but it's going to take some time.
Setting smaller goals will give you the opportunity to celebrate victories along the way and give you the motivation to keep going.
Q: What have been some of the biggest obstacles you've had to overcome?
A: Not eating my kids' chicken nuggets. But seriously, I'm a stay at home mom, so when I started all of this and began to be aware and pay attention to what was going in my mouth, I realized how much I snacked throughout the day, and a lot of it was because I was getting snacks for my kids or eating the extra food that they didn't finish, even though I had already eaten my meal and wasn't hungry.
Another big one was meal planning, I've just never been good at it. But it makes a huge difference, and I usually plan 3-4 days and repeat them for the week, which cuts down on stress and groceries.
Q: What are some of your go-to, favorite meals?
A: I love the berry smoothie from the plan with chocolate protein instead of vanilla and half of a banana. The turkey burger with sweet potato bun is delicious, and I spread some wholy guacamole on it. Rice cakes with The Laughing Cow® and turkey are great for lunch, and then a rice cake with peanut butter and banana is the perfect sweet tooth snack.
And taco salads are a quick, easy, and filling meal as well.
Q: What are some go-to supplements that have helped?
A: I've only gotten one tub of the Chocolate IdealRaw Protein Powder, but I thought it was great, super yummy, and I always looked forward to making my shake after a workout!!